Highlights
Terelj National Park
Tsagaan Suvarga or White Stupa
Yol Valley and Three beauties of Gobi
Khongor Sand Dunes
Bayanzag or Flaming Cliffs
Ruins of Ongi Monastery
Ongi River and Nomad Family
Khugnu Khan Mountain
Khustai National Park
The Mongolian Gobi has high mountains, springs, sands, steppe lands and rich animal kingdom and has been inhabited since ancient times. Mongolian Gobi account 42.2% or 660, 4 thousand hectare of Mongolian territory. Gobi has the biggest territory landscape than others. Mongolian Gobi is remaining ancient history and it is very beautiful nature. There are over 10% of Mongolian Population lives in the Gobi.
Activities
Camel Rides
Treks to the peak of Singing Dune
Exploring Dinosour Fossils
Hiking
Eagle Watching
Hotels
Inclusions
Packages
Food
7 Nights 8 Days
04 Dec, 05 Dec, 06 Dec, and more
Ulan Bator, Mongolia
What is included in the tour
Accommodation during the trip
Driver+4WD vehicle+petrol
English speaking tour guide/cook/
All meals displayed in th itinerary
Camel, horse riding with local guide
Bottled water supply for 1.5 liter p.p everyday
Entrance fees for the national parks and museum
What is NOT included in the tour
International Airfare
Personal Items
Optional activity costs
Alcoholic drinks
Snacks
Accommodation in UB city
Travel & medical insurance
Day 01: Arrival, Terelj National Park
On arrival at Ulaanbaatar, transfer to hotel at Ger and check-in. Visit Terelj National Park, which is recognized as a part of huge Khan Khentii reserve and established as a Strictly Protected Area in 1992. The Park's most spectacular features are its huge granite bloks and cliffs as well as meadows rich in wild flowers. Terelj offers fascinating rock formations against a background of pine covered mountains. The average elevation is about 1600m. with peaks reaching 2900m.We will ride a horse. Overnight in a Ger.
Meals: Lunch + Dinner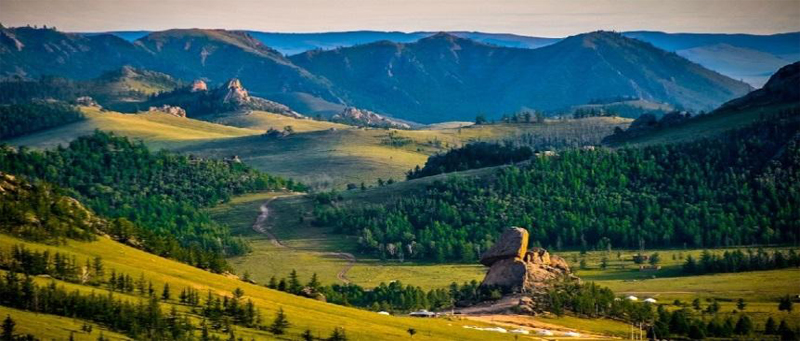 Day 02: Tsagaan Suvarga or White Stupa
Tsagaan Suvarga is a seabed (60m high 400m wide) made of colorful limestone rocks in Ulziit sum, a local administration unit of Middle Gobi province. It is shaped uniquely because of natural erosion caused by water and wind. They named it White Stupa as from the east, the unique shape of the limestone rocks looked alike Buddhist white stupas. We will walk around this area for an hour or two. Overnight in a Ger.
Meals: Breakfast + Lunch + Dinner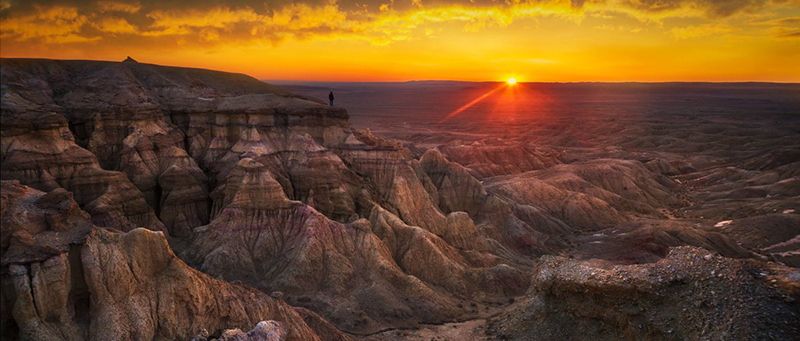 Day 03: Yol Valley and Three Beauties of Gobi
Yol, named after a vulture , is a deep and narrow gorge  in the sub range of the famous mountain "The three beauties of Gobi". We will walk through the gorge. The valley is beautiful with impressive canyons, green land and little pond. Wild and rare animals such as ibex, wild sheep, fox , antelopes, snow leopards are seen sometimes. Overnight stay at Ger.
Meals: Breakfast + Lunch + Dinner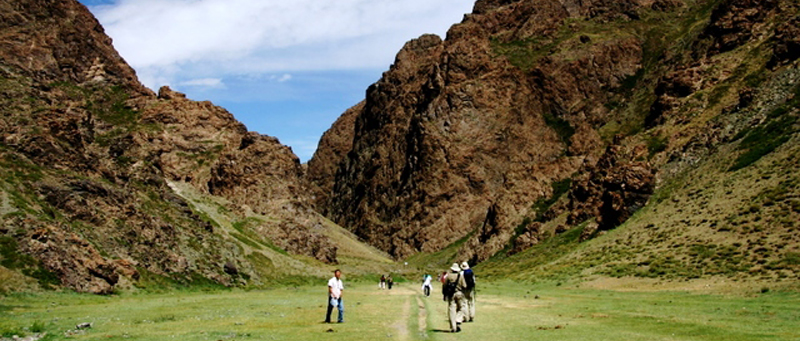 Day 04: Khongor Sand Dunes
Today we will enjoy some travel activities of Gobi desert. After breakfast, we will drive towards Khongor sand dunes that extend along the northern side of Sevrei and Zoolun mountain ranges. After lunch, we will ride camel. The two-humped camels are very comfortable to ride, as they walk slowly and gently and we will be well supported by the humps, sitting comfortably between them. Our camel man will take us around the sand-dunes. After dinner time, we will explore the area, climbing one of the dunes. The dunes extend for 185 kilometers and include dunes that can reach 240 meters in height. Overnight stay at Ger.
Meals: Breakfast + Lunch + Dinner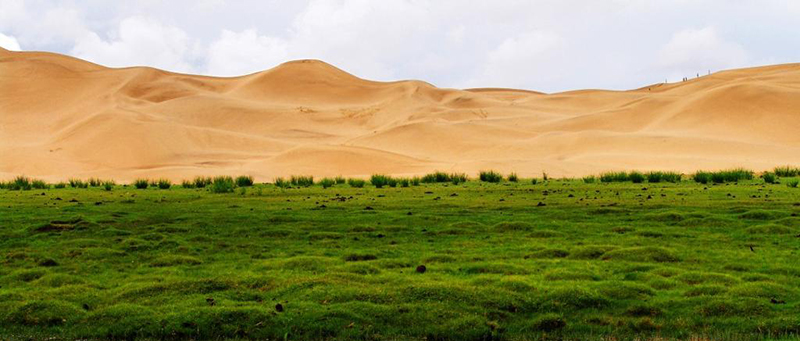 Day 05: Bayanzag or Flaming Cliffs
Drive to Flaming Cliffs which is a neolithic site where the large dinosaurs' skeletons on show in  Natural History Museum were found. In the west, it is better known as the Flaming Cliffs ,so named by explorer Roy Chapman Andrews. He also discovered petrified forests, remains of mammals and in particular the skeleton of hornless rhinoceros, the largest known mammal in the world. Activities: walking around in Bayanzag. Overnight stay at Ger.
Meals: Breakfast + Lunch + Dinner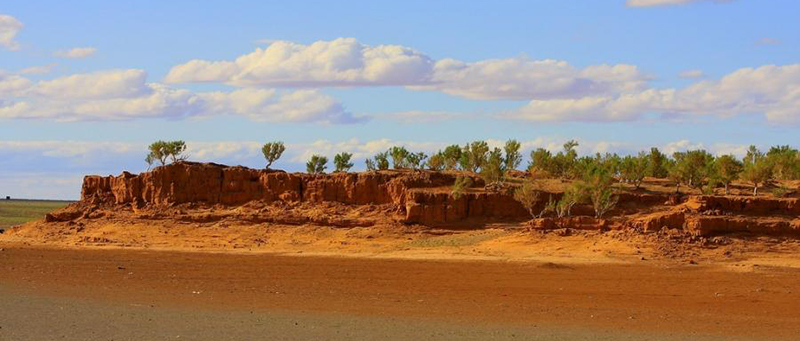 Day 06: Ruins of Ongi Monastery
Barlim Monastery is located on the north bank of the river while the Khutagt Monastery sits on the south bank. The older southern complex consisted of various administrative buildings as well as 11 temples. The northern complex, built in the 18th century, consisted of 17 temples - among them one of the largest temples in all of Mongolia. The grounds housed also 4 Buddhist universities. Founded in 1660, it was one of the largest monasteries in Mongolia and housed over 1000 monks at its height. ​Overnight stay at Ger.
Meals: Breakfast + Lunch + Dinner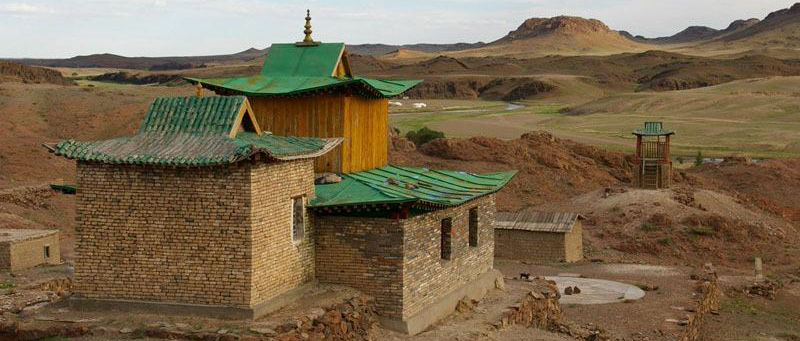 Day 07: Khugnu Khan Mountain
Khugnu khan mountain range is located in Bulgan province. The granite Rock Mountains could is astonishing. The granite rock Mountains over 1960m (above sea level) are great spot for activities like horse riding and hiking. Overnight stay at Ger.
Meals: Breakfast + Lunch + Dinner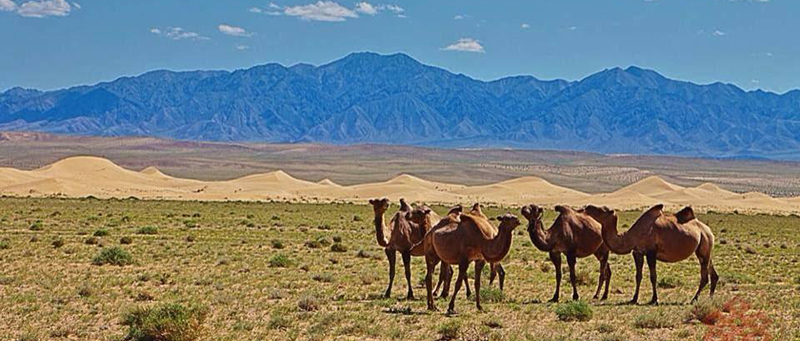 Day 8: Khustai National Park and Back to Ulaanbaatar
Today, we will drive back to Ulaanbaatar. On the way we will visit to Khustai National Park. There you would be able to see Prjevalskii horses (wild horses). Also you will visit little natural museum and hall of guests for short video about National Park in multi language. Enjoy small hiking and photographing the charming landscape and wildlife. After arrival at Ulaanbaatar, drop to airport for departure to your hometown.
Meals: Breakfast + Lunch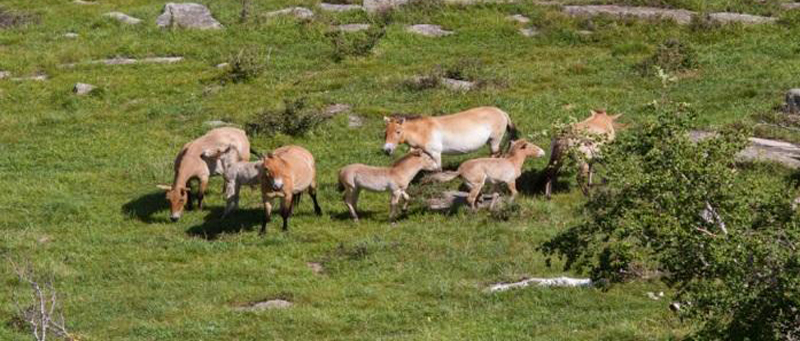 Pickup point
Package starts from here